welcome to
canine
hydrotherapy ltd
Canine Hydrotherapy Ltd welcomes any dog that would like to swim whether it is for recuperation from injuries and operations, on an exercise programme to lose weight or improve their cardio vascular fitness or purely to swim for leisure and enjoyment.
We welcome any dog regardless of size, breed and age. We hope both dog and owner enjoy their hydrotherapy experience in a relaxed and friendly environment, we fully encourage owners to take part in the sessions and request owners wear suitable clothing and footwear. We also offer a wash, shampoo and drying service for your dog. Our aim is to improve your dog's quality of life as a fit dog is a happy dog.
Canine Hydrotherapy Ltd operates a heated 5 metre by 2 metre canine hydrotherapy pool with anti swim jets with a top quality jet system and a ramp and step into the pool. The pool is tested at least 3 times a day to maintain a clean environment.
We offer a variety of healthy dog foods, treats and stock dog toys and accessories. If your dog requires special dietary food or there is a particular product required, please do not hesitate to ask.
We are open weekdays, weekends and evenings.
benefits of hydrotherapy
• Relief of pain, swelling and stiffness
• Stress free support to muscles and joints with zero impact
• Increases range of muscle movement and joint mobilization
• Builds and maintains muscle mass
• Improves cardio vascular fitness
• Improves a dogs mental state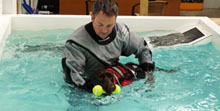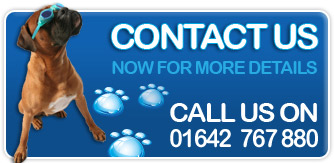 facillities include
• Canine Hydrotherapy Ltd operates a 5 metre by 2 metre pool which is surrounded by a raised platform.
• The pool is fitted with anti swim jets which if required create a resistance for the dogs to swim against.
• The pool is heated to an optimal 26-28 degrees Celsius.
• The water is chemically treated and filtered to maintain the high standards of hygiene. The water is tested at least 3 times a day to ensure the constant correct chemical and pH balance.
• All animals will be fitted with a buoyancy aid / harness prior to commencing a swim
• There are warm shower facilities to rinse the dog prior to the swimming session , post swimming the dogs will be shampooed with the owner's consent and dried with a hand drier or fresh towels